One of the highlights of my day is my evening run through Peachtree Heights East, or "The Duck Pond Neighborhood"…. Well these days with the unbearable summer heat its more of a jog or fast walk even, but you get my point…  Please click on the photos for a larger view.
Peachtree Heights East was the project of  Eretus Rivers, for whom the school on Peachtree Battle Parkway is named.  In 1906 Mr. Rivers, along with  Frank C. Owens bought what was then a tract of "wooded, wild land" from Leontine Chisolm Andrews.  In 1908, Peachtree heights East was bounded on the south by a little dirt road now called Lindbergh Drive.  East Wesley Road now forms its northern border.  Another dirt road became known as Brookwood Drive, and subdivided the neighborhood into two parts, Peachtree Heights which went from Peachtree Road to Brookwood Drive, and and the E. Rivers Subdivision, which went from Brookwood Drive to Acorn Avenue.
The wonderful thing about neighborhood planning in 1908 is that, wisely, they did not try to cram lots into every piece of available land.  They recognized natural flood and drainage areas and left them as open park spaces, to be enjoyed by all the area residents.  They carved roads around natural high and low spots in the terrain, and moved the building setbacks to conform to specific lots.  The result is a very charming neighborhood with features like the duck pond.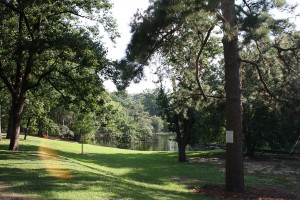 There are many styles of houses in the neighborhood, and it is very easy to become inspired by them if ever suffering from "designers block".  The following are just a few examples of houses that catch my eye.  I will follow up with more posts of other houses in the neighborhood on later posts.
This is an incredibly charming Cape Cod style house.  I love the wood roof, and rustic chimney.  This is an example of how you don't have to over design a house if you use real, honest building  materials and give the house a human scale.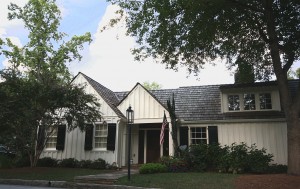 This little Spanish Revival house is simply perfect.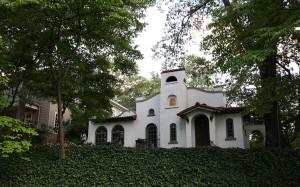 You can even find an interesting example of contemporary design by the duck pond.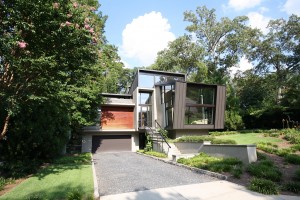 Now a bit of obligatory, shameless self promotion… One of our very first projects, even before Castro Design Studio really existed, was an addition and renovation to this little house.  Recently, it was used as the set for Lucy Liu's house in the Lifetime Original Movie Marry Me (Chuckle all you want…You know you saw it!).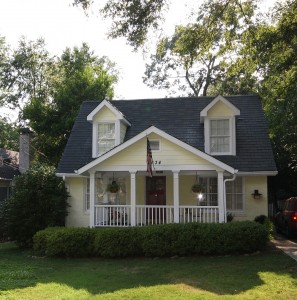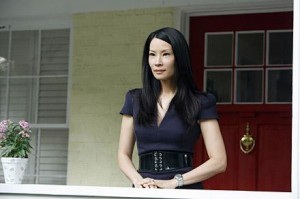 I love this old wall and gate.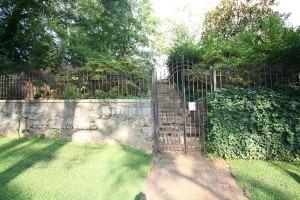 You can barely catch a glimpse through the trees of this Mediterranean revival house, which sits right next to the park.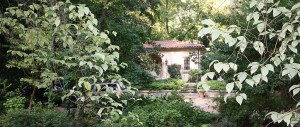 It is really important to see what a real arts and crafts style house should look like.  These days the "craftsman style" has become so corrupted it is easy to forget how very pretty a real example of this style can be.  Note the wonderfully over scaled columns.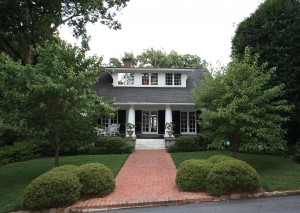 This gorgeous Tudor revival house is one of my all time favorites.  It sits in the perfect spot overlooking the pond.  You can read more about it, and its owner, the extraordinarily talented Kay Douglass this article from Atlanta Homes and Lifestyles and this post from Limestone and Boxwoods.
Finally, I leave you with this image of arguably the cutest baby in the world, my daughter Julia, enjoying an afternoon at The Duck Pond.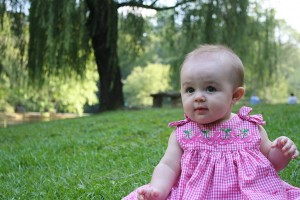 Thanks for visiting!